Air Melancon Outposts


Fly - In Outfitter located in Quebec, Canada with wilderness outpost camps for wildlife fishing and hunting in territories which we have the EXCLUSIVE RIGHTS to. Our outpost camps offer fantastic fishing on over 40 remote lakes. We also offer wilderness canoe trips as well as sightseeing and air taxi service to a destination of your choice!

Fifty years ago, when Air Melancon was created, the desire to roll back the frontiers and bring Quebec's backwoods within everyone's reach was the founder's motivation. The airline had four objectives: to demystify planes and bush flying, to provide the best possible service, to guarantee the highest safety standards and to unveil the hunting and fishing treasures concealed in Quebec's forests. In this way, a tradition was established which is still being fostered today.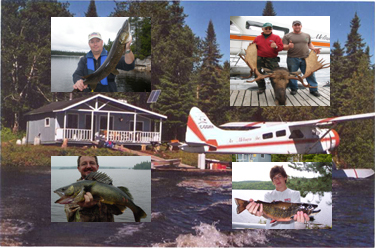 Chalets du Huard / Chalets Scarf
-


Boat-In & Drive-In Quebec Fishing & Hunting Lodge.

Upon your arrival at Chalets Scarf you will be transported by boat 1 mile across majestic Lake Kipawa to our main camp.

Lake Kipawa offers excellent fishing for walleye (pickerel), northern pike and lake trout.

We offer American & Housekeeping Plans.

We also offer moose hunting packages.

There are 9 deluxe cottages sufficiently spaced along the shoreline to ensure your privacy. Each has its own dock, outside fireplace and picnic table. All cottages are totally equipped with stove, refrigerator, dishes, pots and pans. We supply the bedding but you must supply your own personal towels. There are separate bedrooms, indoor facilities, showers and running water. Every cottage has a living room facing the lake, carpeted floors, oil or wood heating and 24 hour electricity. Cottages can accommodate from 3 to 10 persons.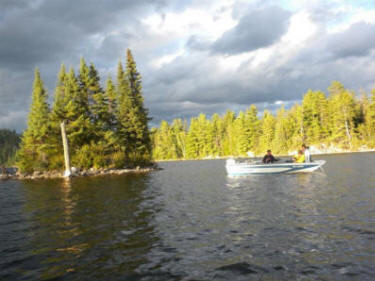 Wapoos Sibi Fish and Game Club
With 8 lodges to choose from, Wapoos Sibi will accommodate independent fishermen, adventurous hunters or larger groups. Our exclusive territory accesses 44 lakes perfect for the whole family or a group of friends looking to become one with the beautiful Canadian forestry.

The main hunting and fishing lodge accommodates groups from 6 to 20 people and offers every comfort of home in true Canadian style. Ideal for family vacations or group getaways, this Canadian lodge provides simple, elegance surrounded by panoramic views of the Lac Long. Visitors will awake every morning to the peaceful serenity the territory bestows through every bedroom window. For those fishing or hunting focused groups, a chef is available, upon request, to tempt the palate with wonderful French cuisine, Canadian specialties, great wine, wild game, steaks or the catch of the day.

Hidden in the remote areas of Wapoos Sibi territory, the rustic Canadian outpost cabins are favorites of the individual fisherman and avid hunter. These secluded cabins are very private and comfortable offering a deck, with BBQ, overlooking the tranquil waters of the territory's 44 lakes. Just pack your fishing or hunting gear because every necessity is provided. Each cabin, including the main lodge, sports a fully equipped bathroom and kitchen, stove, refrigerator, wood stove or fireplace, and comfortable beds. Everything needed to make this trip a sportsman's pleasure.

Wapoos Sibi is a fisherman's dream hosting unique Canadian fishing in a natural, clean habitat. With no stocking of fish allowed, Wapoos Sibi is home to the rare Quebec Red Trout only found in northeastern Canada. It's cousin, the Speckled Trout will put up a good fight whether spin casting or fly-fishing. A favorite for the amateur fisherman, the lake trout can be caught effortlessly on baitfish, crank bait as well as flies. For catching the great Northern Pike, heavy tackle is required to haul this beast in after a lengthy battle. If looking for the best tasting catch of the day, there's nothing better than a beautiful Walleye. No matter what's biting, every fisherman will enjoy the most amazing fishing the lakes in the territory offer.

Whatever adventures visitors want Wapoos Sibi is sure to provide. Superb fishing, excellent hunting and comfortable accommodations encompassed in 60 square miles of natures beauty is waiting. Just make a reservation today and experience Canada's magnificent splendor of the Wapoos Sibi territory.